Fakuma 2021: digitalization is boosting circular economy
Moretto is pleased to announce its participation in FAKUMA 2021 (Friedrichshafen, 12-16 October) Hall B3 – 3208, one of the major European events for the plastics industry.
In line with the theme of the 27th edition "Digital meets circular economy", Moretto will focus on solutions developed for the smart factory as well as products dedicated to recycling, a business which is increasingly growing and requires equipment able to treat used materials which are intended for re-entry in the production cycle. We have been very active in the recycling industry for years, offering energy efficient solutions suitable for grinding, treating, conveying and storing flakes and regrind material from pre and post-consumer waste.
At Fakuma we will showcase our GR grinders, modular systems with different types of cutting chambers for specific applications. The GR chamber shape is particularly efficient with voluminous material and the scissor-like action ensures clear cuts with no dust and very low noise levels.
A new version of MPK Kristallyzer will be launched, a very advanced crystallization system covered by patent. The version available at the exhibition will display all the original design features which make this equipment so usable and efficient – the lower cone which can be opened for cleaning and maintenance, the mixing chamber with removable blades which can be adjusted based on the material type, the wing-shape agitators which mix evenly and prevent clumps. SPYRO is the stainless steel shockproof finish, which protects and insulates MPK, a distinctive feature which makes our products unique in the market. The entire system is managed through a 10" touch screen control panel mounted on the dryer and can be completed with Vortex – the filtering device able to capture dust particles up to 20 micron – and Purex – the condensate separator which filters oily and resinous contaminants, typical of PCR material.
Connectivity is the future
Any modern production facility requires connectivity between systems, processes and even other plants. Currently most of our systems are designed in line with the smart factory requirements and Fakuma will be the perfect opportunity to showcase how the software MOWIS works. Mowis is our supervision and management platform developed in-house to manage the whole plastics transformation process. Mowis is modular and self-configurable, it can be used on-site or remotely and is totally integrated to the local network via communication protocol OPC UA.
Mowis makes the management of complex systems easy.
Improved performance for the new COMPACT conveying line
Production sites require compact equipment in order to optimize the use of space. This is a common request coming from plastics processors, which has led to the restyling of our conveying product line. The new COMPACT range is on average 30% smaller than the equivalent product available on the market.
At Fakuma we will showcase:
the new COMPACT hopper loaders, containers and receivers
the VENTURI hopper loader series featuring new six versions which extend their scope of application
the new QUICK RELEASE DEVICES for hopper loaders, containers and receivers. They allow a super fast disconnection of the equipment in order to carry out cleaning and service procedures even in a controlled environment
the restyled three-phase SUCTION UNITS which have become more compact. These units have a modular design and can be equipped with several extra accessories depending on the application – Vortex filters, bypass valve, duo valve, cooling ring
a brand new range of FLEXIBLE HOSES – made of 100% polyurethane – entirely produced in-house in six versions – vacuum line, material line (2 weights), medical sector and wear-resistant – which combined with the different available sizes make up a range of 60 different models
COUNTER, the in-line weighing system able to weigh plastic materials transferred from the container/receiver to the drying hopper. Counter supplies real-time information on material consumption allowing a very accurate monitoring of the production process.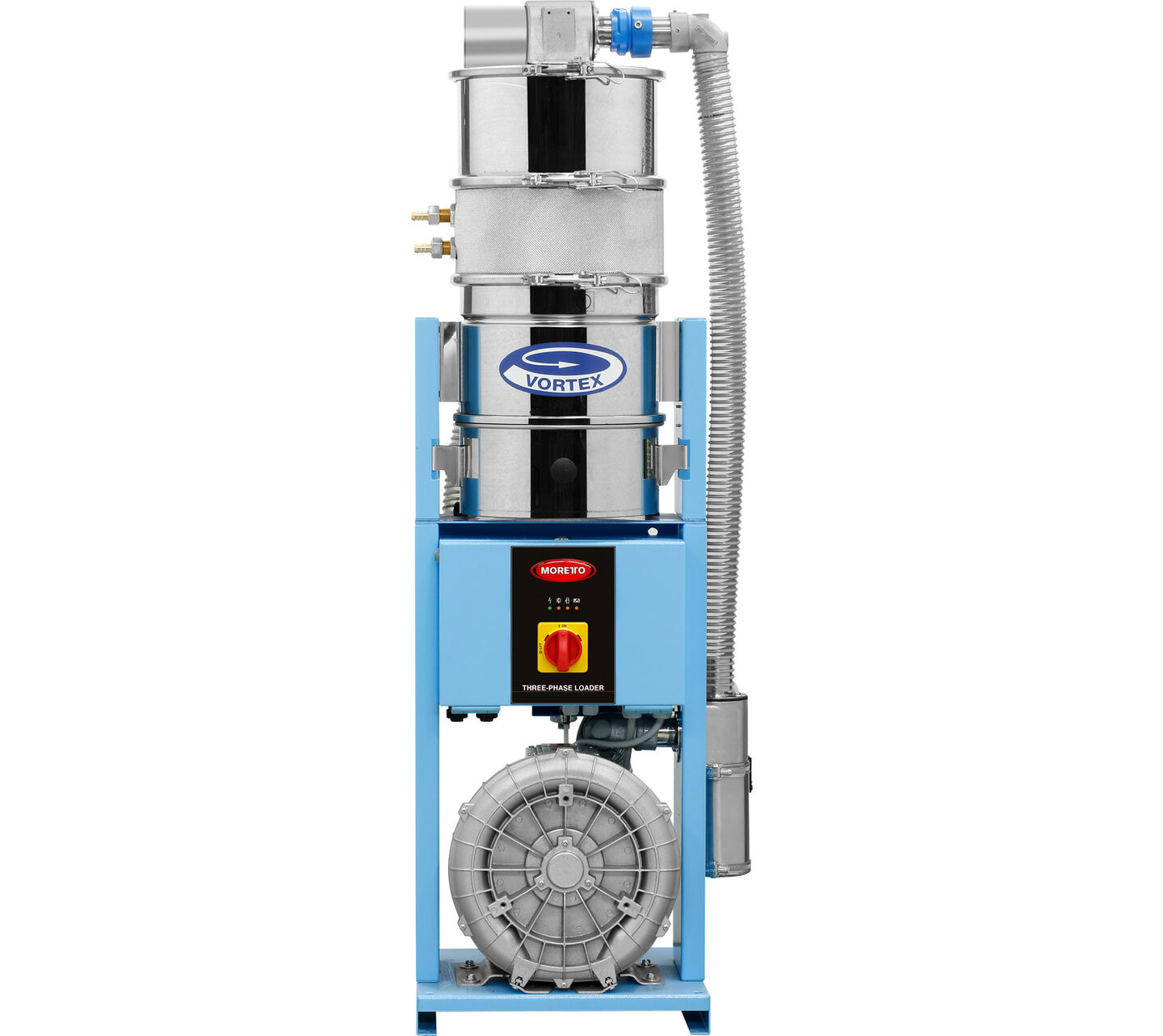 Efficient drying for both low and high throughput
One of our latest product developments is the manual DRY AIR mini dryer. This series has undergone a technical update which now includes the OTX hopper and a user friendly touch screen display. The new model has a double tower circuit and manual airflow adjustment, a piece of equipment ideal for the treatment of technical polymers. Six different sizes are available.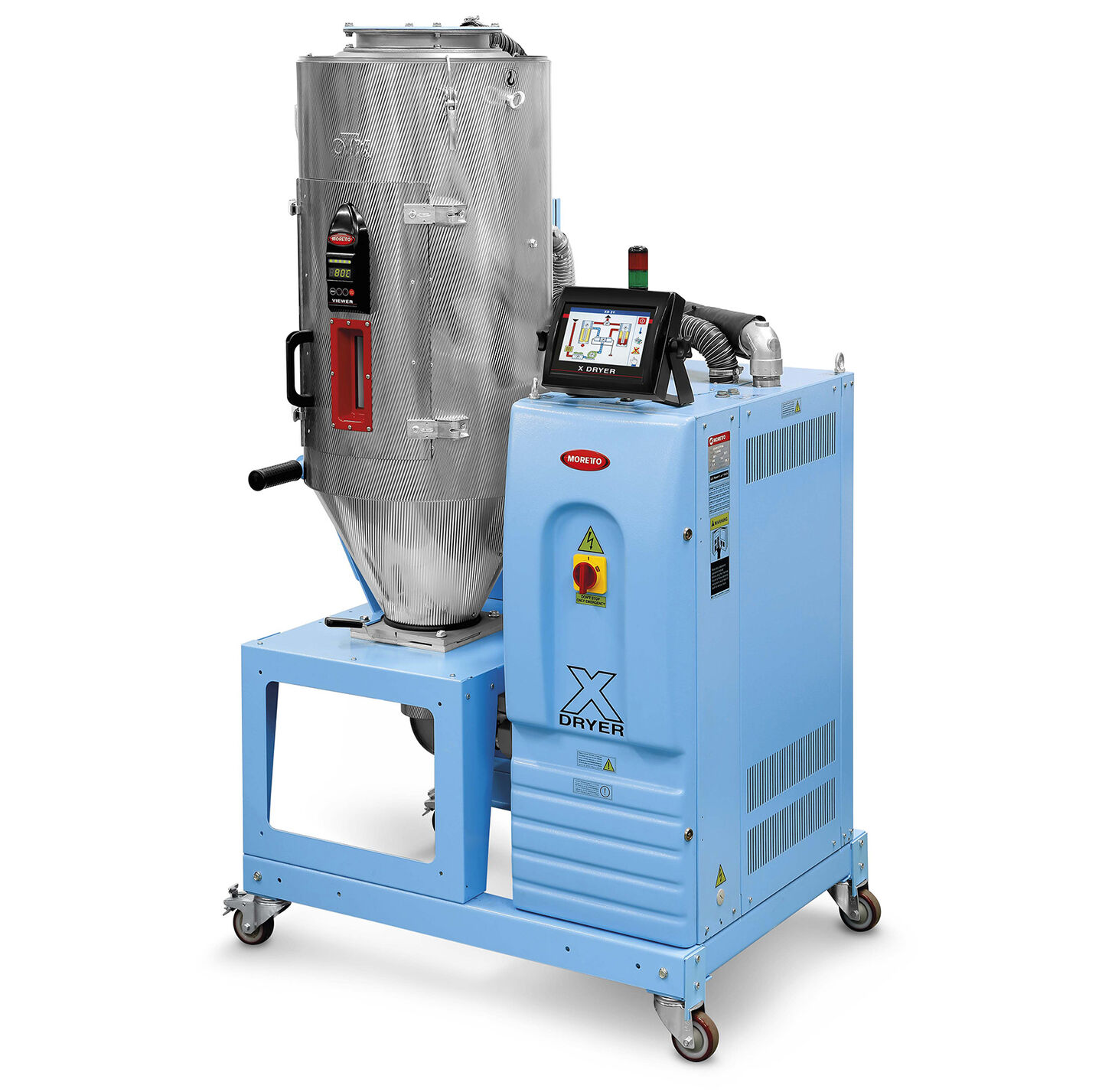 Compactness and usability are the key features of the new CRX TROLLEY. A very compact all-in-one solution available in 3 configurations. The standard configuration includes dryer+hopper with One Power electrical supply and a 7" touch screen control panel mounted on the dryer.
Other products will be showcased at Fakuma from 12 to 16 October 2021, Hall B3 – 3208, do not miss the opportunity to visit and talk to us about your plastics processing requirements!