X COMB Dryer US
The Wheel re-engineered by MORETTO
Perfect Polymer Drying: guaranteed by the combination of 100% Zeolite molecular sieves and OTX's hopper geometry.
High energy efficiency: its turbocompressors provide powerful full electric support with low energy consumption.
Compact & Easy to install and use: suitable for direct installation on the machine's throat with quick and immediate programming.
Find out the X COMB Range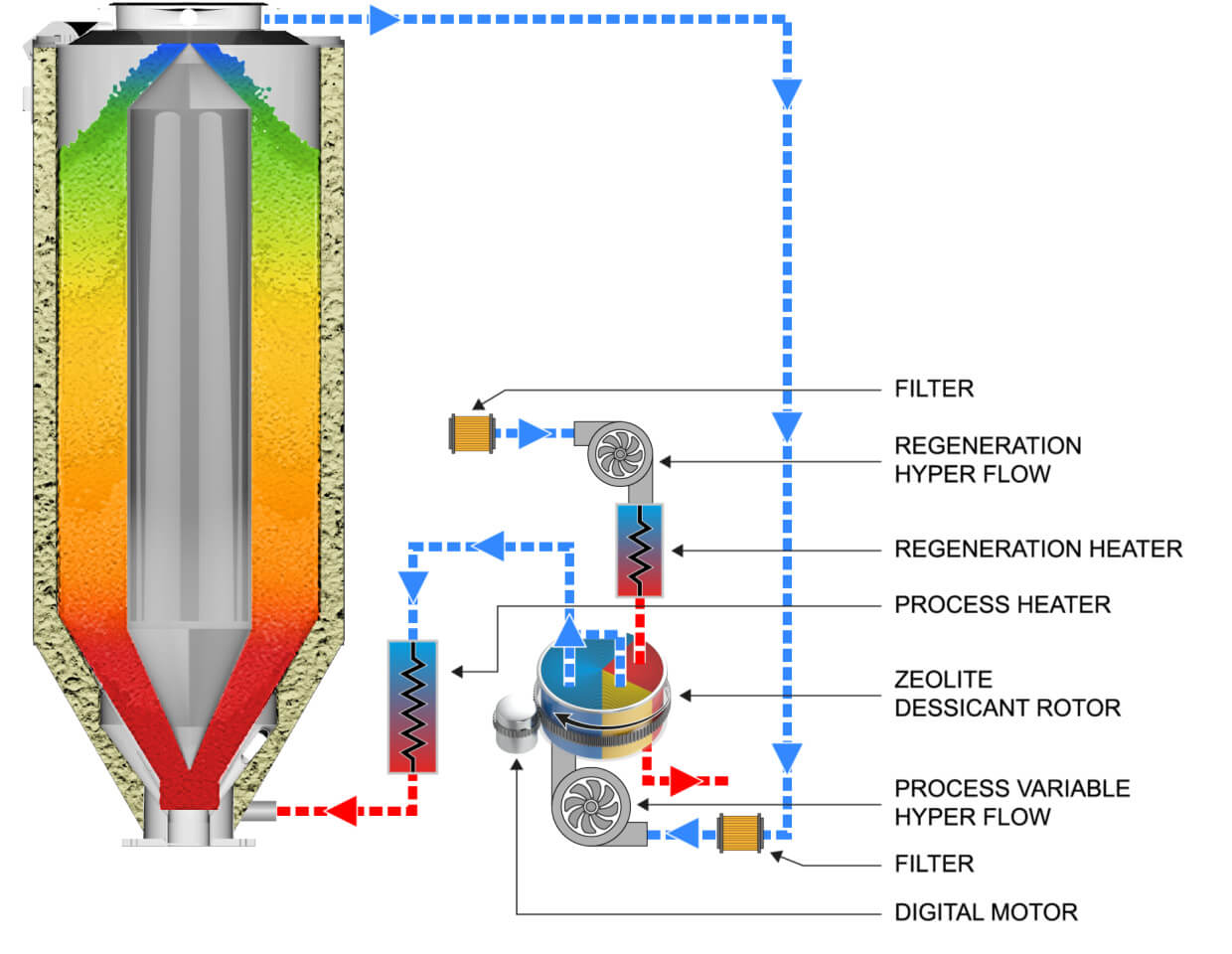 Excellent dehumidifying air quality and consistent process is guaranteed by:
100% Zeolite Desiccant Rotor with superior absorbent capacity (versus currently used silica gel) producing dryed quality air up to

-62 °F

Dew Point.
Special Honeycomb Wheel technology together with the digital motor allows a constant Dew Point.
OTX hopper technology allows a uniform drying treatment in short time, thanks to its geometry, that eliminates the problem of polymer falling flows.
High Energy Efficiency +45%
Reduced energy consumption is guaranteed by:
OTX hopper technology significantly reduces the polymers' residence times vs. conventional hoppers.
OTX thermal insulation with natural rockwool helps to transport away moisture and to maintain optimal resin temperature.
Hyper Flow turbocompressor with variable flow (via VFD) provides the correct quantity of air to optimize the energy consumption.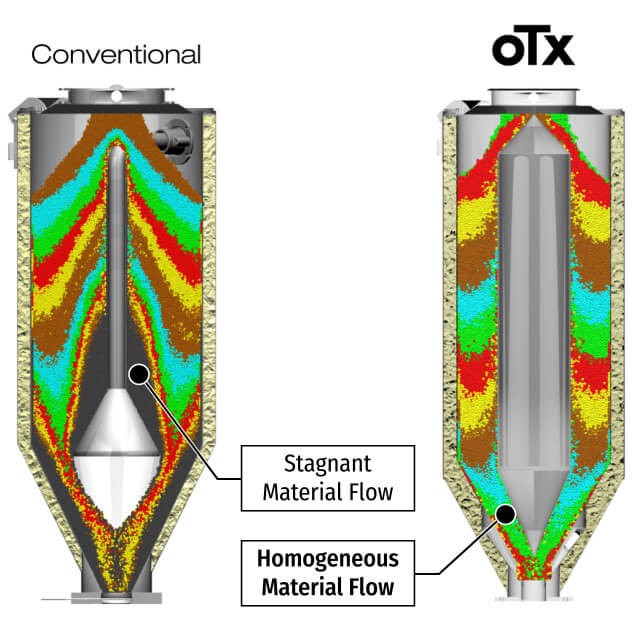 Compact & Easy to install and use
X COMB distinctive Moretto design is very compact compared to the products available on the market.
The programming is immediate: the operator has only to set the material type and the hourly production.
Set it and forget it: never so easy!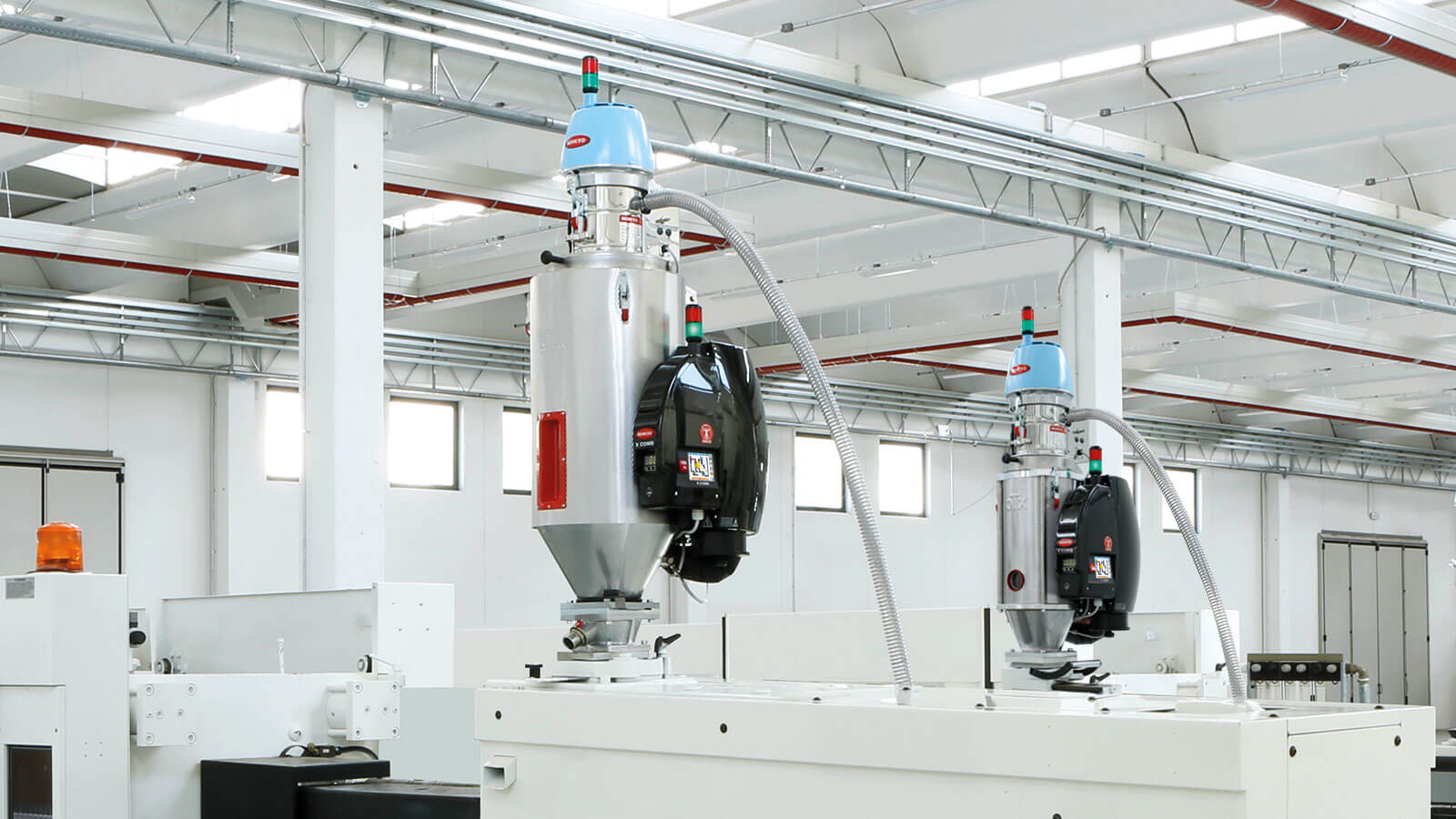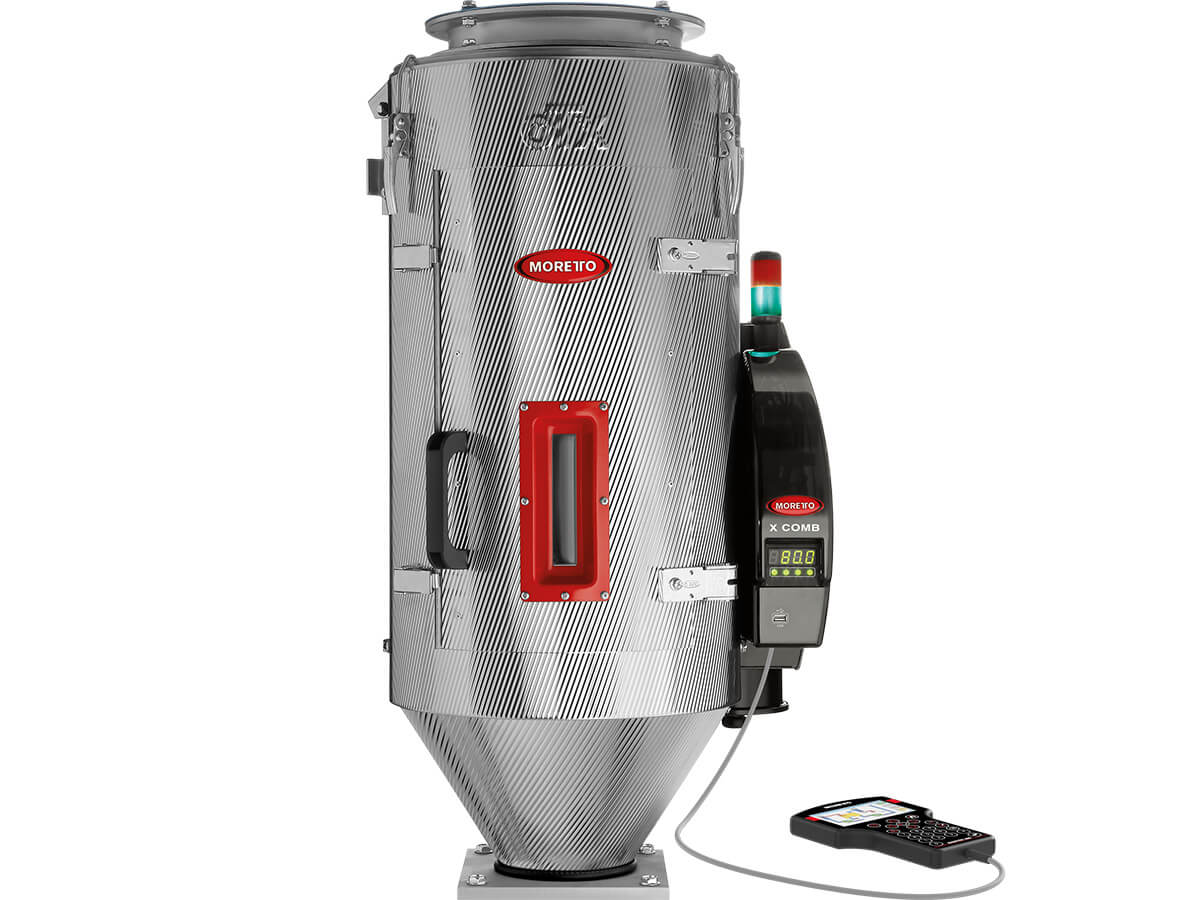 Spyro Shockproof
OTX's shockproof Spyro finishing makes the machine sturdy.
Enlarged door
Facilitates the machine's inspection and cleaning operations.
Master 300
Available as option to remote the X COMB touch screen control.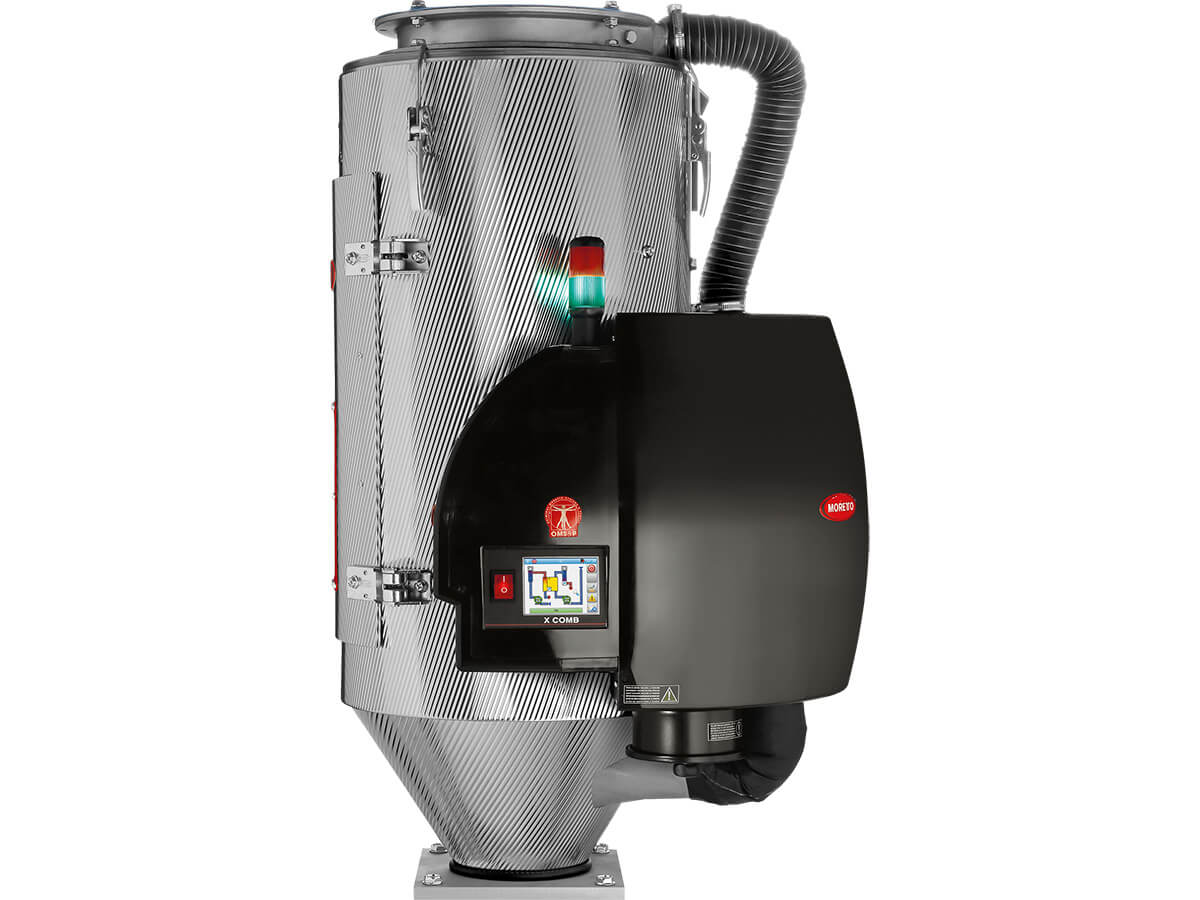 Lock-up Lid
The ingenious mechanism designed by Moretto's engineers guarantees the maximaximum operator safety during maintenance.
LED Light
The high visibility LED light allows you to immediately view the machine's operating status.
Maxi filter
The Large Surface filter in the sealed housing assures that all the air is 100% filtered.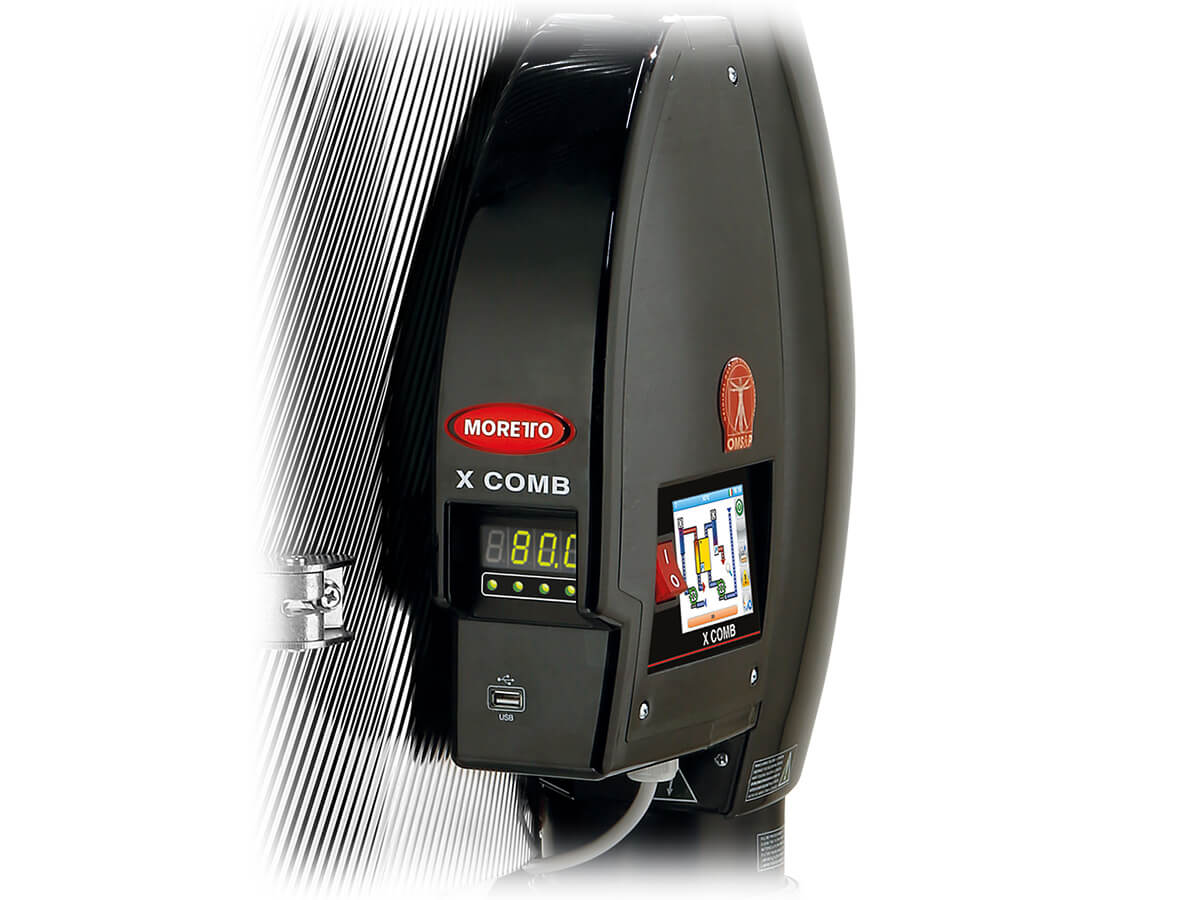 Status at a Glance
Verify the temperature inside the hopper and get early warnings of the dryer status with the highly visible LED Light Bar.
LCD touch screen
With 4:3 format and high definition quality as standard, it allows a full control of the X COMB.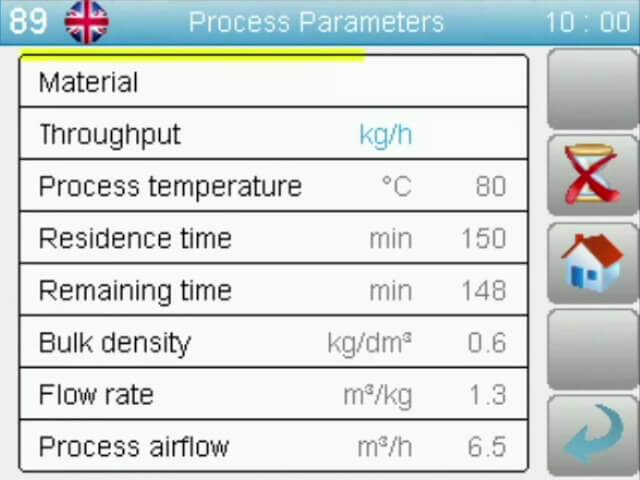 USB Port
The USB port provides easy data download and an optional pendant control provides an additional color touch screen.
Integrated,
Compact Design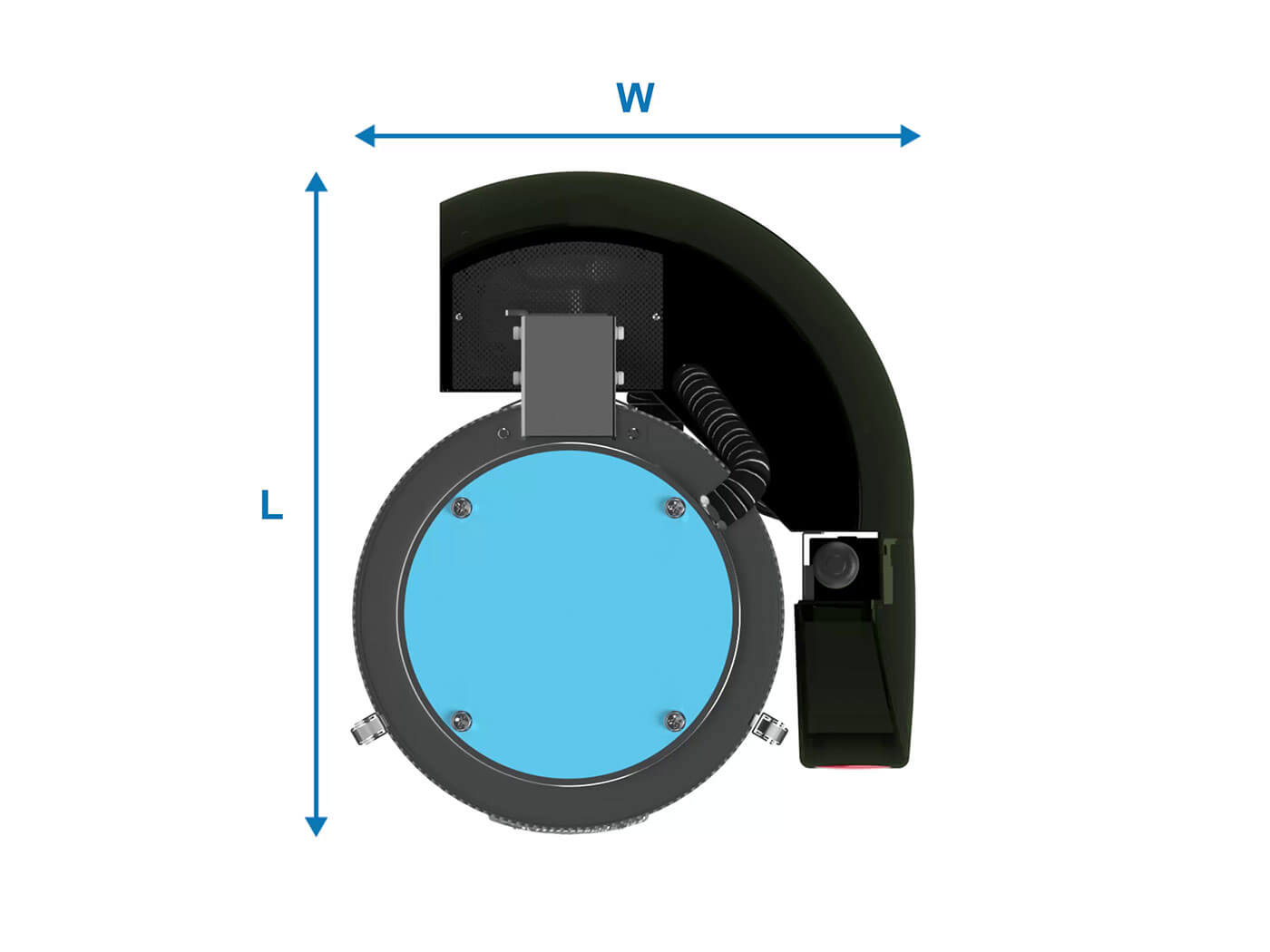 Integrated, Compact Design
HYPER FLOW combined with OTX technology features a minimal footprint.
Thermal insulation
The natural rockwool insulation plays a very important role in OTX layer-on-layer effect, helping to transport away moisture and mantain optimal resin temperature.
Configurations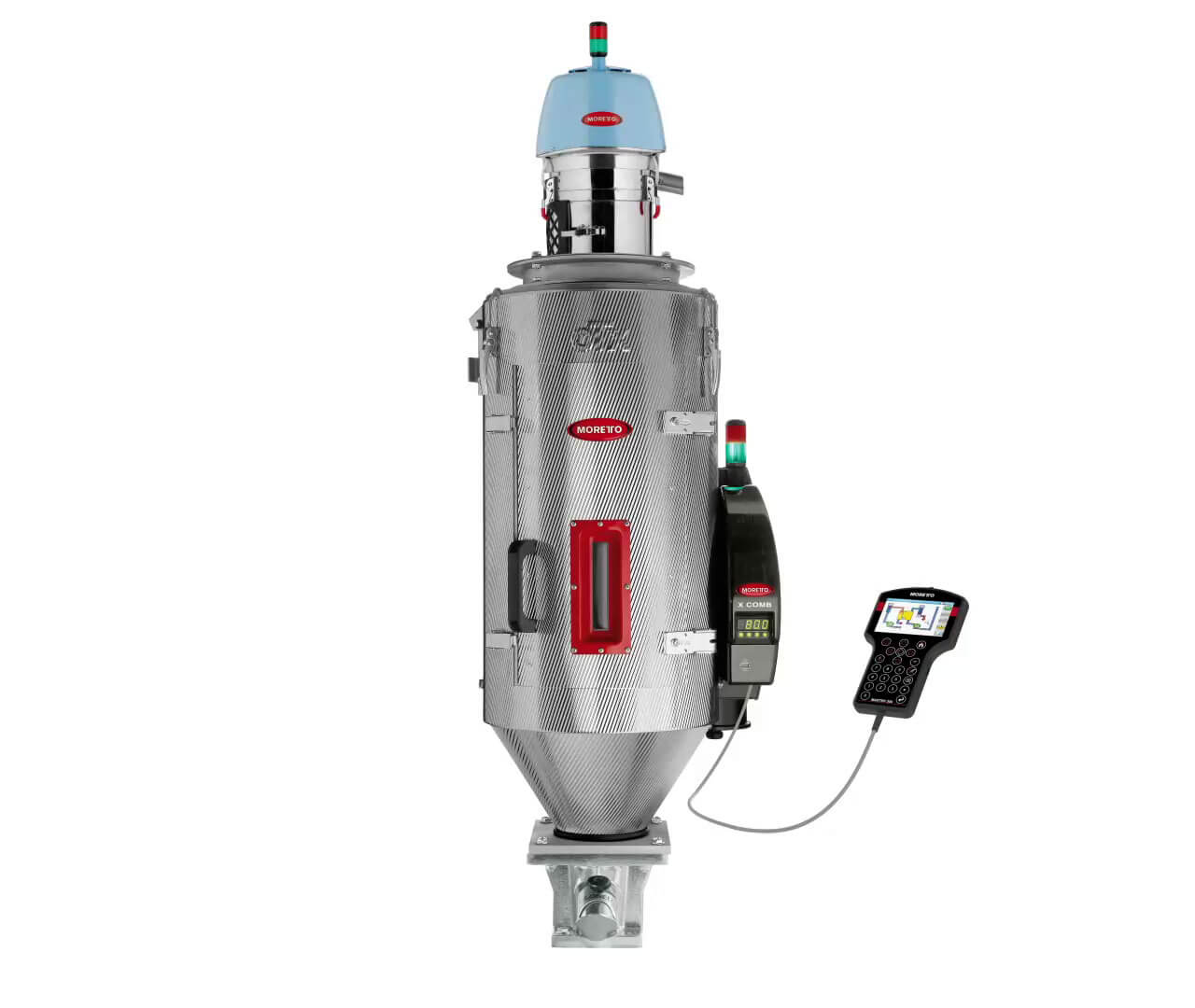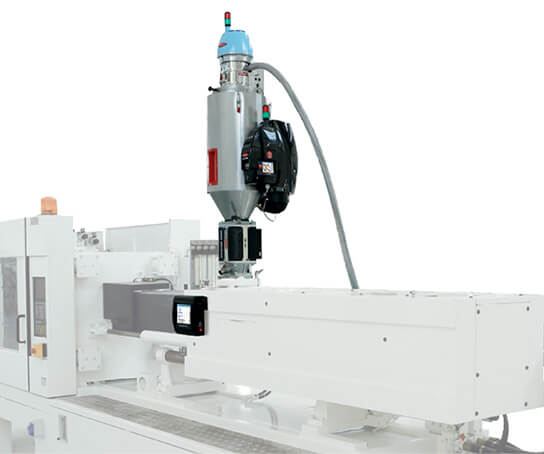 ON version
Direct installation ON the processing machine is the ideal application.
In-line efficiency
Reduced footprint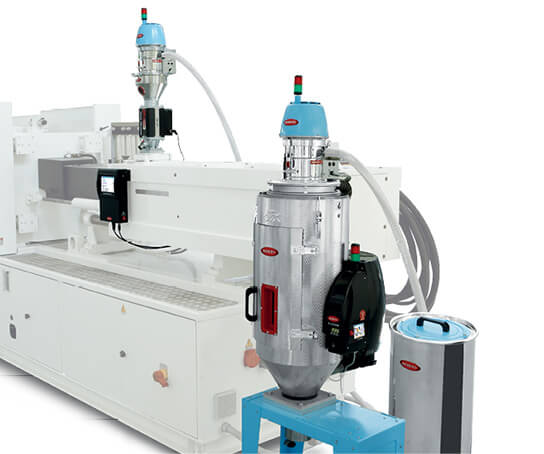 SIDE version
Installation at the machine's SIDE is the most flexible application.
Mobile cart
Flexible usage
X COMB range
Available in 7 different sizes.